Glastonbury Festival (unofficial) Merch
Some of my favourite images have been turned into other products (see below)
All are made in the UK by small independent businesses and available for next day delivery.
There are discounts for multiples of the same product (calculated upon checkout) that can be packaged and sent together.
NEW -T Towels
45x68cm, 100% cotton, with hanging loop and made in the UK.
See the range below – £16.00 each, with subsequent T towels £12.00 each

(Unofficial) Glastonbury Festival Calendar 2024
A limited edition hand signed calendar featuring 12 of my new Glastonbury Festival images.
Why not frame the images when you've finished with the calendar as an all year reminder of your 'happy place'!
(Please note; this calendar is a selection of Alce's favourite paintings of Glastonbury Festival and is in no way officially endorsed by Glastonbury Festival Events Ltd)
21x21cm (opens out to 21x 42cm)
£24.00 (incl P&P) This item will be sent via Royal Mail second class signed for post.
(and while stocks last you will receive a copy of my 2023 calendar!)
Ceramic Mugs
Image runs right round the mug, 300ml earthenware and arrives boxed. Made in the UK
6 Designs to choose from, they are:
My Happy Place
Drinking in the morning sun
Spirit in the sky
Togetherness
Satisfaction
Somewhere only you know
£18 for the first mug, and £15 for subsequent mugs!
Greetings Cards
Sustainably sourced, 350gm textured board and brown recycled envelope.
Made in the UK, they are blank inside for your message. Available in packs of 5 only
Greeting Card: 'Greatest Hits'
Featuring my best selling images: 'The Lost Weekend', 'Togetherness',' I can see for miles', 'My Happy place' and 'Showtime'
£18 for pack of 5 (£15 for subsequent packs)
Greeting Card: 'Artists Favourites'
Featuring my favourite images
'Satisfaction', 'Brightside', 'Somewhere only we know', 'Drinking in the morning sun' and 'Spirt in the Sky'
£18 for pack of 5 (£15 for subsequent packs)
Glastonbury People
(These cards are 14.2×14.2cm and come with a white envelope)
Featuring my 2023 collage work celebrating the people of the festival
'I am a cider drinker', 'Love and Pride', 'Meet me on the Corner',' Simply the best' and 'Grow old with me'
£18 for pack of 5 (£15 for subsequent packs)
Glastonbury Festival (unofficial) Cushions…new for 2023
100% Vegan Suede
With plain coloured backing, zipped and machine washable at 30 degrees
Comes complete with cushion pad, 45x45cm and Made in the UK
ALL PRICES INCLUDE P&P
£28 each….£23 each for additional cushions.

Enamel Mugs
'I'd rather be at Glastonbury'
Limited edition of 50 and UK printed
Perfect for camping, fishing, hiking etc…or just to keep your coffee hotter for longer!!!
350ml size , boxed with silver coloured rim
Dishwasher safe on top shelf
£15.00 each (£10 for subsequent mugs)
'Showtime' and 'Brightside' designs only at the moment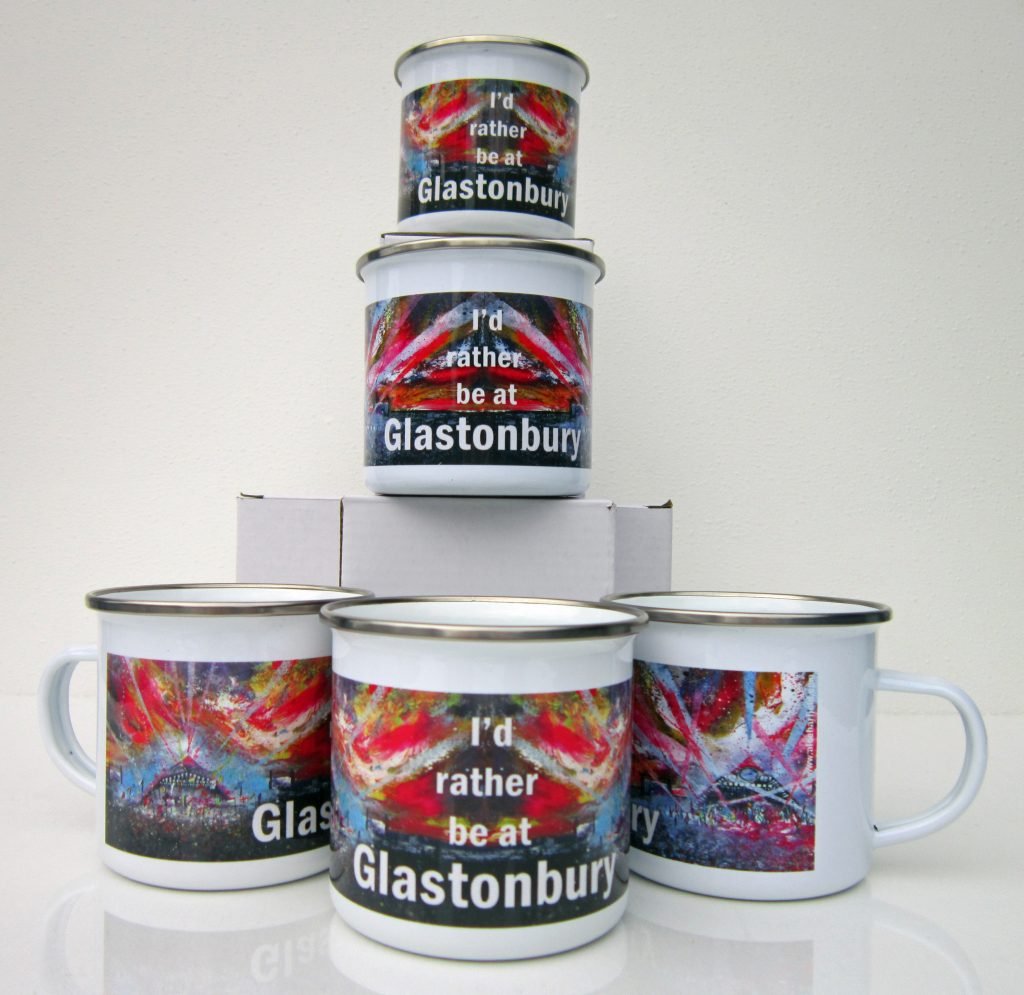 Glastonbury Festival Jigsaw Puzzle
As an avid jigsaw puzzler (they are a great way to focus the mind and forget about everything else!) I decided to get one made.
This one is from my most popular print 'Showtime'
Eco-Friendly Specification
Made in Devon from 1.5mm 100% recycled millboard
FSC sourced paper for print and box
Pieces are sealed in clear polybag inside – bag is 100% recyclable
1000 pieces and 50x66cm when completed it comes in a hand signed box with a 'pull out and keep' folded print which is 29x38cm
(A quick iron will remove the creases if you wanted to frame it when you've finished referring to it while you plough through the puzzle!)
Glastonbury Festival
The best festival in the world
I first went to Glastonbury in 1987 and like thousands was immediately mesmerised by the place.
The next year I started trading and sold a variety of products from plaster wall hangings of fish, to bobble hats. paintings and hair garlands! (all handmade!) and have traded every year since.
I first began painting the festival in 2015 and my stand now features over 40 prints of these paintings.
My aim when I started was to capture the magic….the sounds, the smells, the colour….the magic that just jumps into your soul!
My atmospheric paintings create the feeling of the place , those spine tingling goose bump moments of the best festival in the world!