Unofficial Glastonbury Festival Prints & Paintings
The best festival in the world
I first went to Glastonbury in 1987 and like thousands was immediately mesmerised by the place.
The next year I started trading and sold a variety of products from plaster wall hangings of fish, to bobble hats. paintings and hair garlands! (all handmade!) and have traded every year since.
I first began painting the festival in 2015 and my stand now features over 40 prints of these paintings.
My aim when I started was to capture the magic….the sounds, the smells, the colour….the magic that just jumps into your soul!
My atmospheric paintings create the feeling of the place , those spine tingling goose bump moments of the best festival in the world!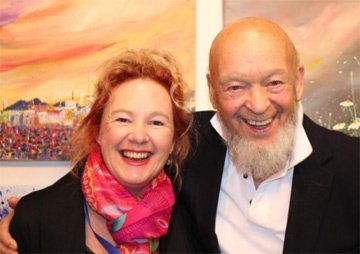 Original Festival Paintings: NEW for 2023
NEW -T Towels
45x68cm, 100% cotton, with hanging loop and made in the UK.
See the range below – £16.00 each, with subsequent T towels £12.00 each

'TIMES LIKE THESE'
'Times like these' was painted (like the rest of my new range) during the 2020 lockdown and includes an imaginary '50' stage topper and a cascade of rainbow coloured ticker tape to reflect the 'times like these'.
Keen to support one of the many local charities which would normally benefit from the festival Alce contacted Michael Eavis and he suggested the wonderful 'Children's' World' founded by Arrabella Churchill.
To read more about this amazing charity you can visit http://www.childrensworldcharity.org
For each copy of 'Times like these' sold I will make a donation to 'Children's World' (…so far I have raised £2,949).
If you are not interested in buying a print but would still like to donate to this wonderful charity please go to their Just Giving page https://localgiving.org/charity/childrensworld/
Children's World: Supporting inclusion for ALL children, through drama, performance, film making and fun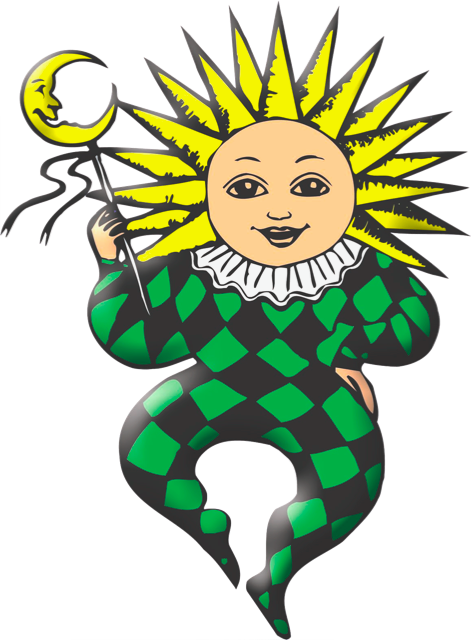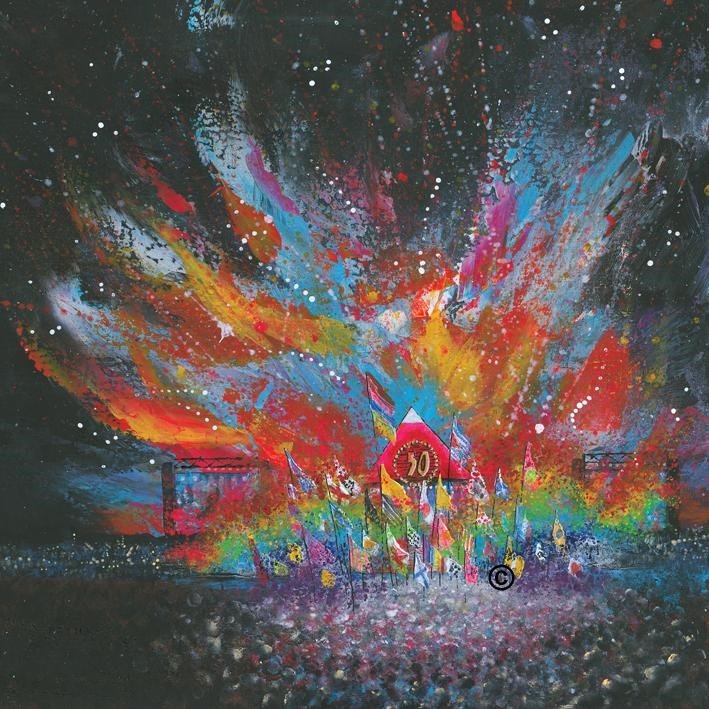 New for 2021 – Aluminum Prints
Below you can see my New 2021 Glastonbury Work.
I have also produced a Glastonbury jigsaw puzzle using my best selling ('Showtime') print , which you can see below the 2021 Limited Edition Prints.
Also, very excitingly, I have produced exterior, aluminium, versions of all of my canvas prints.
To take a look at my exterior collection click the button below.
New for 2021 – 'Joe's Place'
'Joe's Place' was recently commission by the Joe Strummer Foundation and depicts the area of Strummerville.
Joe's wife Lucinda commented:
'Joe's place is a beautiful painting that captures the Strummerville vibe on a classic Glastonbury evening; that chilled sense of togetherness in our little corner of the festival watching the sun set before a night of fun'
This was an absolute honour to be asked and a donation from each print sold will go towards this wonderful organisation.
To find out more about their work or to make a donation please go to joestrummerfoundation.org
Glastonbury Canvas Prints.
Hand Finished Canvas Prints.
These paintings are available as a hand finished canvas print, strung and ready to hang.
Each background is printed and wrapped around the 1.5″ thick chunky canvas then hand finished with shiny bits as appropriate!
These prints are normally painted to order so please allow 2-3 weeks for delivery. Alce will email you when ready to send.
Glastonbury Limited Edition Prints
A 50x50cm print (unless otherwise stated) on 385gms paper with a 2.5cm white border.
Each one is hand signed, titled and numbered with an embossed authentication.
Will fit a standard readymade frame available online.
Glastonbury Festival Cushions and Mugs
Glastonbury Cushions (Limited Edition)
Glastonbury Festival Cushion Covers (these designs only at the moment!)
100% Vegan Suede
With plain coloured backing, zipped and machine washable at 30 degrees
Comes complete with cushion pad, 45x45cm
ALL PRICES INCLUDE P&P
£26 each….£21 each for additional cushions of the same price.

(Unofficial) Glastonbury Festival Calendar 2023
A limited edition hand signed calendar featuring 12 of my new Glastonbury Festival images.
Why not frame the images when you've finished with the calendar as an all year reminder of your 'happy place'!
(Please note; this calendar is a selection of Alce's favourite paintings of Glastonbury Festival and is in no way officially endorsed by Glastonbury Festival Events Ltd)
21x21cm (opens out to 21x 42cm)
£24.00 (incl P&P) This item will be sent via Royal Mail First Class signed for post.
Enamel Mugs
'I'd rather be at Glastonbury'
Limited edition of 50 and UK printed
Perfect for camping, fishing, hiking etc…or just to keep your coffee hotter for longer!!!
350ml size , boxed with silver coloured rim
Dishwasher safe on top shelf
£15.00 each (£10 for subsequent mugs)
'Showtime' and 'Brightside' designs only at the moment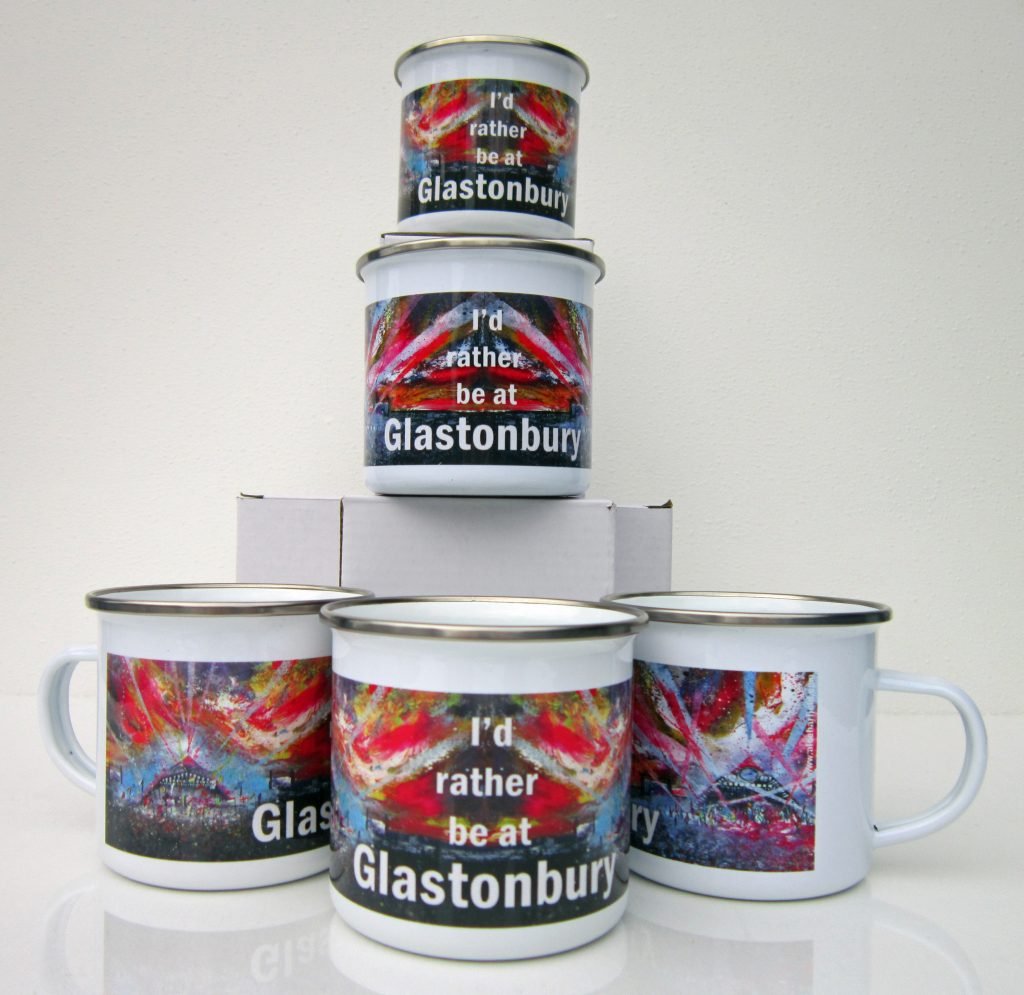 Glastonbury Festival Jigsaw Puzzle
As an avid jigsaw puzzler (they are a great way to focus the mind and forget about everything else!) I decided to get one made.
This one is from my most popular print 'Showtime'
Eco-Friendly Specification
Made in Devon from 1.5mm 100% recycled millboard
FSC sourced paper for print and box
Pieces are sealed in clear polybag inside – bag is 100% recyclable
1000 pieces and 50x66cm when completed it comes in a hand signed box with a 'pull out and keep' folded print which is 29x38cm
(A quick iron will remove the creases if you wanted to frame it when you've finished referring to it while you plough through the puzzle!)